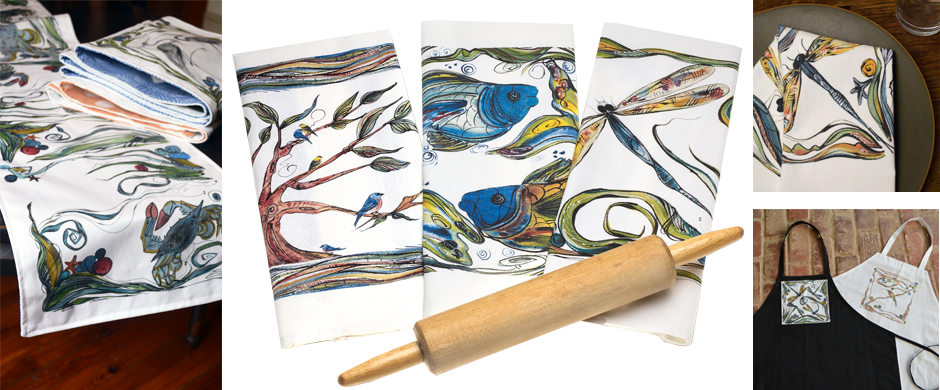 "Have nothing in your house that you do not know to be useful, or to be beautiful." – William Morris
Blame it on the Anesthesia – A close friend was in the recovery room after surgery when something made her think of me. Still woozy from the anesthesia, she wrote a brief letter in wobbly script, so unlike her usual precision: "You should have your designs printed on other things!!" with a list of 10+ items, from the sublime to the ridiculous. I found her note quizzical, flattering, and impractical and put it away.
Clay has been my life for well over 30 years. Clay defined me. I was a one-trick-pony.
The note resurfaced last year and this time the idea seemed worth considering. Clay Born Textiles features my colorful imagery that is the hallmark of Clay Born Pottery. Imprinted with the herons, hummingbirds, crabs, and dragonflies that I hand paint on ceramics, the Natural World collection includes tea towels, napkins, table runners and aprons. Use them everyday and enjoy! – Nancy Salamon
---
Please contact us if there are textile products you would like to see in the future.
Click on the images below to see a larger version and get more detailed product information or here to see the pricing.